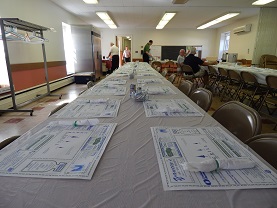 St. Luke's Church participates in the Noon Meal  program co-ordinated by the Lebanon County Christian Ministries (LCCM). The program was begun 25 years ago.  A group of volunteers meet the third Thursday of each month (except August) to provide, prepare, and serve a nourishing tasty meal to those who are in need. This service is free of charge. Both the LCCM and others donate food for each meal. Co-Ordinator, Lauralee Gebhard,  plans the meals and guides and directs the volunteers.  The average number served averages well over 100 per month.
This meal does more than feed the hungry. It provides a social time for those who attend and gives them a safe haven in which to rest. In addition, the church Prayer Circle provides prayers for grace as well as prayers for the guests to take home with them…thus providing a spiritual refreshment.
If you would like to partake in the Free Noon Meal, or would like to volunteer or assist, please contact the church.