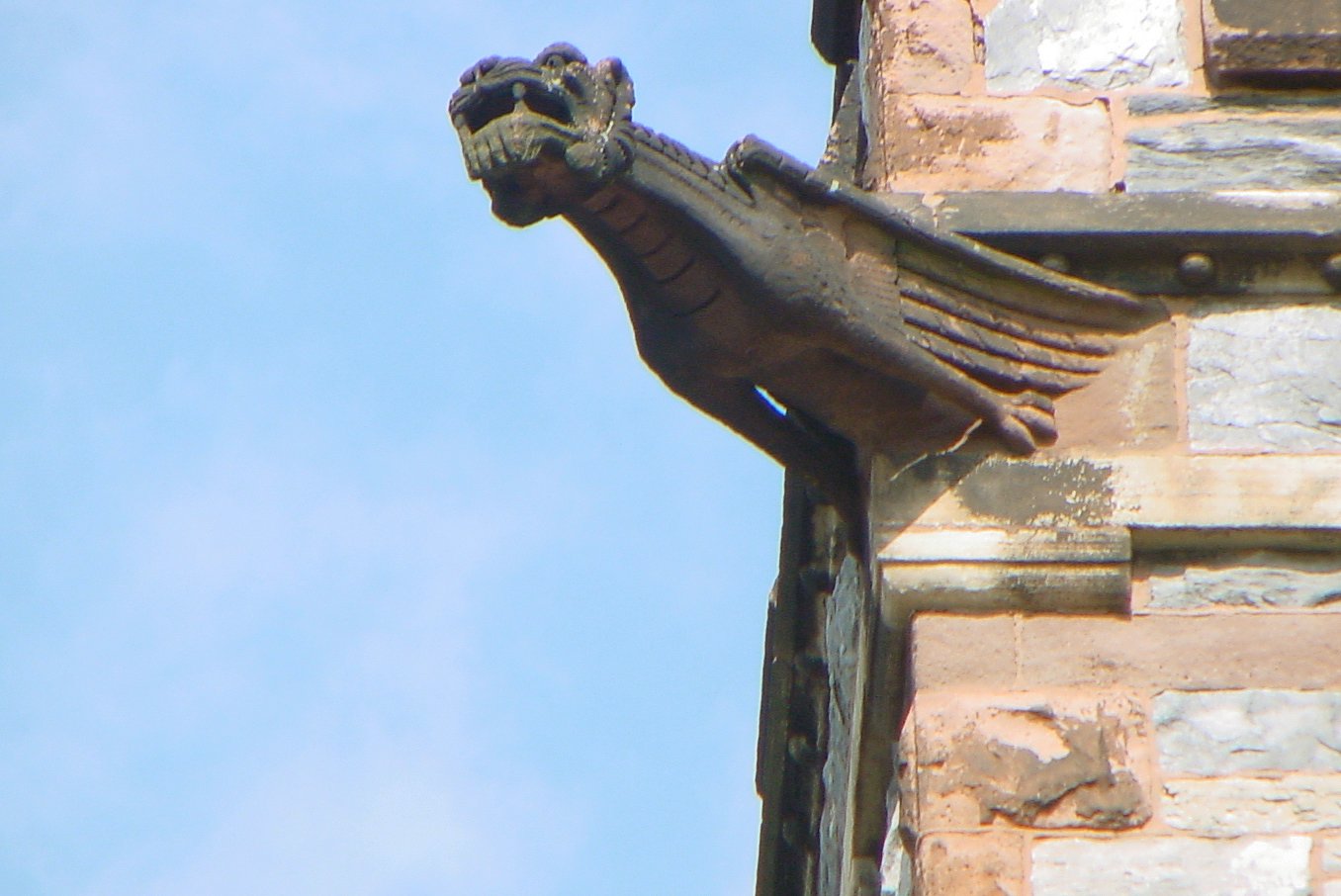 Sunday May 21, 2017
WELCOME VISITORS … All baptized Christians are invited to receive Holy Communion and participate fully in the liturgy.  Please sign the guest register at the door so that we may be in touch.
Next Week's Lessons:
Psalm 68:1-10, 33-36
Acts 1:6-14
1 Peter 4:12-14, 5:6-11
John 17:1-11 
Rogation Sunday. This Sunday was originally so called because of the words in the Prayer Book gospel for the day: "Whatever you ask the Father in my name, he will give to you". (The Latin is 'Rogare' – to ask.) In the strictly biblical context, the chief thing to ask for is the spirit of God to enable us to be true children of God. By the 17th century, the old Roman festival of 'Terminalia", or "boundaries", had been adapted by the church and served a practical purpose. In days before survey maps, there were not always clear lines of demarcation between the parishes, especially where there were open field systems. During the procession, boys were bumped on prominent marks and boundary stones, or rolled in briars and ditches, or thrown in the pond to ensure they never forgot the boundaries! The Victorians made it more civilized by beating objects rather than people, in the context of a service and procession.
The rogation themes of blessing the fields and beating the bounds were commended in the 1630s by the poet George Herbert, that epitome of English country parsons. He said that processions should be encouraged for four reasons: • Blessing of God for the fruits of the field. • Justice in the preservation of boundaries. • Charity in loving, walking and neighborly accompanying one another with reconciling of differences at the time if there be any. • Mercy, in relieving the poor by a liberal distribution of our excess. Today the emphasis has shifted. In the agricultural cycle, main themes include seed sowing and the tending of young plants and animals. While seed sowing is done all the year round, as is the birth and rearing of the young, it is convenient to fix on one particular festival as the time to remember these before God in a public way. Rogation takes place in the springtime, when there is a renewing of the earth. In our country, it follows Easter, the season of resurrection. Renewal and resurrection underlie this occasion.
Parish Picnic Sunday, June 11 10:00 AM North Lebanon Township Community Park, 75 Kimmerlings Road, Lebanon. Directions: Take 7th Street north past Sunset and turn right onto Kimmerlings Road, park is on left side. Park facilities include pavilion with sides that can be closed if needed, kitchen w/stoves, refrigerators, sinks, playground equipment, 2 volleyball courts, basketball court, tennis courts, 2 baseball fields, horseshoes, shuffleboard and handicapped accessible bathrooms. Hot dogs, sauerkraut, bar-b-que, buns, chips, pretzels, drinks, and condiments are provided; also paper plates, napkins, cups, and utensils.   Bring your own lawn chair and favorite covered dish.  Cakes are needed for the cakewalk and auction.  Please mark cakes so we know where you want the cakes to be used and if the plate needs to be returned, tape your name to it.  In case of rain, the picnic will be at the Church. EVERYONE IS WELCOME TO ATTEND! Contact Brian or Sharon at 273-3224 or e-mail them at bsw53@comcast.net with any questions.
6 WEEKS – 6 CHAPTERS – OUR PARISH-WIDE READ. We are moving toward the end of our community wide reading of Opening the Prayer Book by Jeffrey Lee. Be sure to continue your reading and study and mark your calendars for the Rector's Forum and Pot Luck Supper on May 31st! On that day we will come together to discuss the insights we have gained and how it may determine our way forward as a community grounded in and identified by the way we worship
The Parish Office will be closed on Monday May 29th in observance of Memorial Day.
WELCOME VISITORS  All baptized Christians are invited to receive Holy Communion and participate fully in the liturgy.  Please sign the guest register at the door so that we may be in touch.   Please join us in the Auditorium after the 8:00 & 10:30 Services for Coffee Hour.
Music Notes:  The prelude this morning is an organ and piano arrangement of The Heavens are Telling the Glory of God, a chorus from Joseph Haydn's masterwork Creation. This Oratorio depicts the creation of the world as depicted in the Book of Genesis and has a particularly appropriate place in our liturgy today on Rogation Sunday. The Parish is encouraged to continue their observance of Rogation Sunday tonight at Choral Evensong, where the Festival Choir will offer the full choral rendition of The Heavens are Telling, followed by the Susquehanna Slide Express (a trombone quartet) offering Achieved is the Glorious Work which is also from Creation." 
Opening the Prayer Book   Self-Study Discussion Group Wednesday May 24th  6:30 PM – 7:30 PM In the Lounge
Ascension Day Dinner and Service:  The Women & Girls' Dinner will begin at 6:00 PM on Thursday, May 25.  
Meal prepared by Bill Claxton and Jason Yannuzzi Cost is $10.00  Payment to be received at the dinner.  Menu Bar-b-que Chicken Macaroni and Potato Salad Baked Beans Green Salad Fresh Strawberries with Cake . A sign-up sheet is posted on the  bulletin board next to the  office to make your reservation. The Ascension Day Service will follow at 7:30 PM.  The service is open to everyone.
ON STEWARDSHIP – 101 REASONS.  Many believers today live in times and places where persecution is minimal if not non-existent. But in the time of the apostles, suffering as a result of persecution was not unusual. In fact, it was expected that if you professed Jesus as Lord, you would surely suffer, as Christ himself had suffered. Because many Christians live in "safe" parts of the world, they come to expect that being a Christian should somehow protect them from suffering and they are surprised when trials and persecution come. How we respond to suffering and persecution is the topic of peter's concern in today's second lesson. Regardless of how we are treated, we are to be ready to "give an answer to everyone who asks us for a reason for the hope we have." Whether we suffer for the gospel or suffer because of the fallen human condition, what we do with suffering and disappointment is a matter of stewardship. As pastor and author M. Wayne Brown has taught, "We are to be good stewards of the physical/temporal realm, Yes, but we are never to depend upon it for our security. We are to give our very best to our marriages, our jobs, our children, our health, and our earth, but never with the idea in mind that, by so doing, we buy an unassailable life. What we do buy in our efforts is strength of character to face the stuff of life from which no one is exempt, and a front row seat in the unfolding drama of God's redeeming work.
Vacation Bible School: Sunday, July 9th – Thursday, July 13th 6pm to 8pm St. James Lutheran Church 53 Chestnut St. Lebanon, VBS is free, but you must register! You may register online at:  https://vbspro.events/p/events/lebanoncooperativeministry or pick up a form at St. Luke's Parish Office. Needs list for VBS Red Cellophane Blue shower curtain liner 3 shallow plastic bins Glue Dots 6 UNUSED toilet plungers. If you would like to donate any of these supplies for VBS, please drop them off in the Parish Office
St. Luke's will be participating in Boscov's Friends Helping Friends event.  Shopping passes are available in the Parish Office for $5.00.  The pass entitles you to 25% off your purchases at Boscov's on Tuesday October 17th.  100% of the  proceeds from the sale of the shopping passes benefits St. Luke's. For more information call the Parish Office.