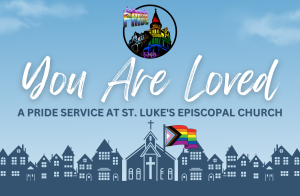 LEBANON'S GOT PRIDE 2023
"YOU ARE LOVED" – A PRIDE SERVICE
St. Luke's Episcopal Church
Sunday, June 25, 2023 – 10:30AM
22 S. 6 th St.
Lebanon, PA 17042
Join us for "YOU ARE LOVED" – A PRIDE SERVICE at St. Luke's Episcopal Church to open the Lebanon's Got PRIDE 2023 Celebration. The service will conclude with a Progress Pride Flag raising ceremony in the church yard and a community reception in the church auditorium.
Want to sing with the choir? Click here.
St. Luke's is an open and affirming congregation – We affirm the full inclusion of gay, lesbian, bisexual, transgender, and non-binary persons and those who love them in our church's life and ministry; we support their relationships; we advocate for their basic human rights.