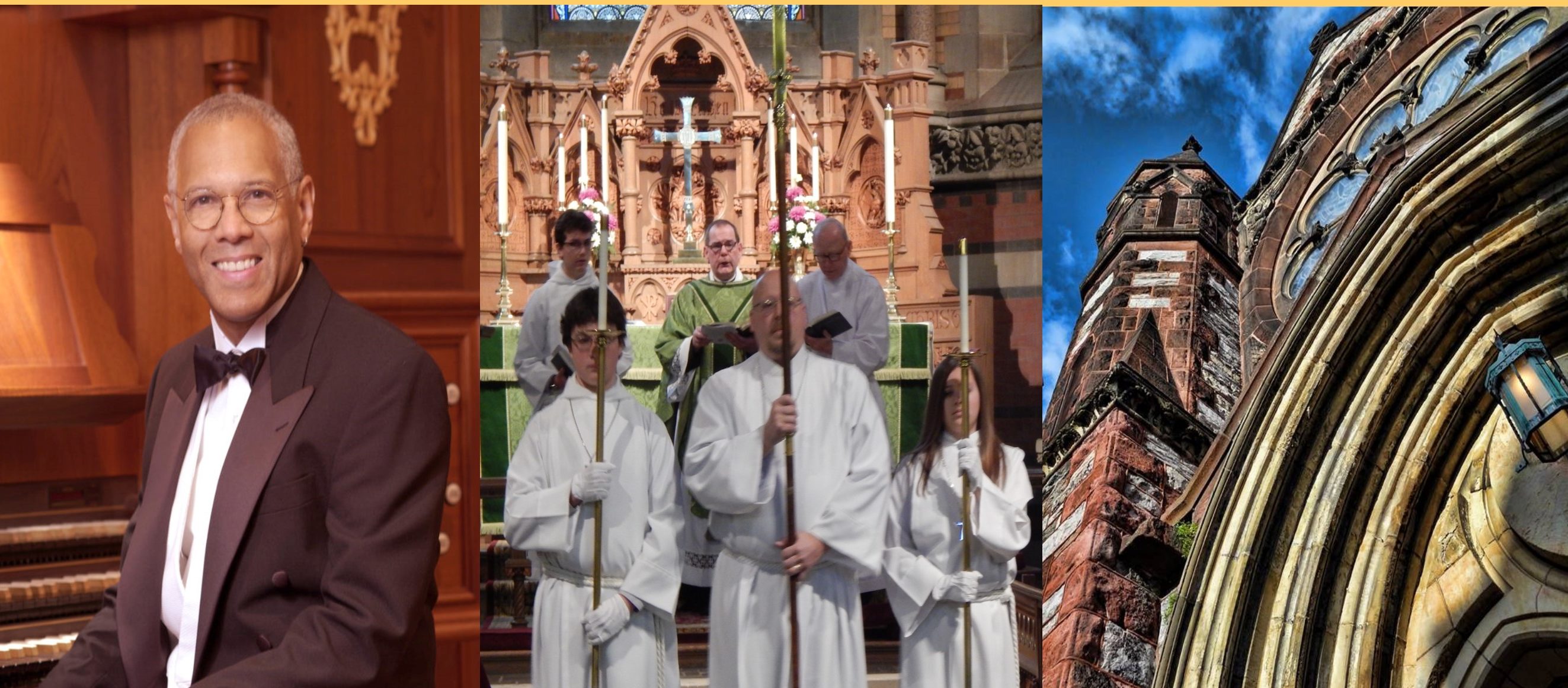 A Day with David Hurd is a collaborative effort on the part of St. Luke's Episcopal Church, Lebanon, PA and The Stevenson School for Ministry. The day provides learning opportunities for practical liturgical arts focused primarily on music but including other liturgical ministries. Dr. Hurd will give master class sessions focusing on the teaching of his Evening Canticles from his Norfolk Service. Participants will be invited to sing them at Evensong the following evening. In addition, workshops on Acolyte, Lector, Public Prayer, and Lay Eucharistic Minister training will be available.All activities will take place at St. Luke's Church, 22 South 6th Street, Lebanon, PA. Registration and tuition information will appear here shortly. 
David Hurd is widely recognized as one of the foremost concert organists, sacred music composers, and church musicians in the United States, as well as for his innovative, engaging, and ever-evolving improvisation abilities. Newly appointed as Organist and Choirmaster of the Church of St. Mary the Virgin in New York, he is the composer of dozens of hymns, choral works, and organ works, and was one of the major musical contributors for the Episcopal Church's Hymnal 1982. A typical recital program from Dr. Hurd will feature works of Bach or Krebs, his own compositions, and a thrilling improvisation. David Hurd is represented by Phillip Truckenbrod Concert Artists, www.concertartists.com.
You may register for A Day with David Hurd at http://bit.ly/oct21event. The cost of the program is $25 and lunch is $10. 
Workshop Schedule:
8:30 Arrival & Check-in – Light breakfast fare available.
9:00 Welcome Nave
9:15 Keynote address Nave
10:00 Break
10:15 Choral Master Class – Part 1 Nave
Workshops
· Proclaiming a Living Word: Lector Practicum – Part I Auditorium (Parish Hall)
· Assisting at Worship: A Primer for Acolytes Trinity Chapel (Parish Hall)
· Lex Orandi, Lex Credendi:
   An Introduction to Leading Public Prayer Classroom 1 (Parish Hall)
· Lay Eucharistic Minister Training – Part I Classroom 2 (Parish Hall)
11:30 Midday Prayer Nave
12:00 Lunch & Fellowship (Brown bag or box lunch-beverages provided) Auditorium (Parish Hall)
1:00 Choral Master Class – Part 2 Nave
Workshops
· Proclaiming a Living Word: Lector Practicum – Part 2 Auditorium (Parish Hall)
· Assisting at Worship: A Primer for Acolytes Trinity Chapel (Parish Hall)
· Lex Orandi, Lex Credendi:
   An Introduction to Leading Public Prayer Classroom 1 (Parish Hall)
· Lay Eucharistic Minister Training – Part 2 Classroom 2 (Parish Hall)
2:15 Break
2:30 Final Assembly Nave
3:00 Blessing and Charge
Guest Quick Links: