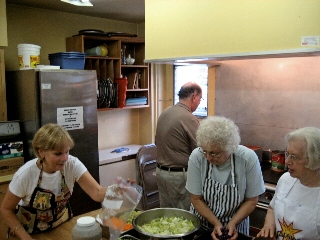 The purpose of this organization is to carry out the work of the Episcopal Church Women in both the Parish and the Diocese;  to interest its members in some branch of Christian service and to engage in such Parish projects as may be considered necessary and desired.
The ECW consists of women of the Parish of all ages, ethnic origins, and socioeconomic backgrounds.  The common denominator for membership is the Love of God, and the desire to do His work.  The group meets on the second Tuesday of each month at 7 PM in the Fellowship Hall.  
Past projects have included fundraisers such as the Superbowl Soup Sale, Kauffman's Chicken Barbecue Sale, Rummage Sales, and the legendary Saint Luke's Christmas Bazaar.  EVW community outreach programs have included Habitat for Humanity, Wernersville State Hospital, Church Women United, the United Way, Children at Risk, Cornwall Manor, and Backpacks for Iraqi Children.
The Women assist at special church events, such as preparing and hosting church receptions and serving dinners on special occasions.  The social aspect of the group includes dinner theater and concert attendance.  
The Women of Saint Luke's are urged to participate in ECW, attend meetings, and take part in the functions as to help continue the life of Saint Luke's.