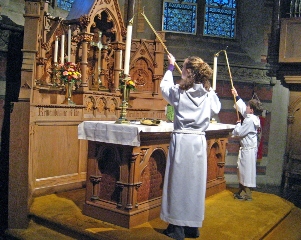 An acolyte serves and assists the celebrant, priest or bishop of the mass and/or. To serve and assist a priest during the celebration of the Lord's Supper is one of the greatest privilege and highest honors at the altar of God. Boys and girls are most welcome to serve as acolytes starting at the ageof 10, sometimes younger. Adults are welcome as well. Positions for acolytes are crucifer, acolytes of the mass, torch bearers, thurifer and boat bearer, banner bearer, and the master of ceremony.
During the regular seasons at St Luke's acolytes wear an alb with a cincture around the waist. During Lent, Advent, evensong, and Stations of the Cross,  black cassocks and cottas are worn.The duty of the crucifer are to lead the choir, lay ministers and clergy in procession in and out of the church, as well as other duties.
The duties of the acolytes of the mass are processing with the crucifer, carrying the mass torches, and processing with the crucifer for the Gospel reading. At the offertory acolytes receive from the element bearers the bread and wine and then present them to the celebrant. They then proceed to present the water for the washing of the celebrant's hands. Torch bearers will walk when a second crucifer is present behind the choir and in front of lay ministers. They also hold their torches during the consecration of the mass.
The thurifer prepares the thurible with hot coals for the incense that is carried by the boat bearer. Incense is presented to the priest to bless and spread onto the hot coals which creates a smoke and smell. It is symbolic of the rising of prayers of the saint's atonement and a sacrificial offering to God. It is also symbolic of cleansing, purification,  and reverence.
A Master of Acolytes is one who is knowledgeable and has trained a number of years in all positions and requires faithful service.  He is head of the acolytes. He has many responsibilities to insure the service is properly performed by all acolytes, all lay persons and clergy.  An MC or head acolyte must be sure all are vested in time, the altar is prepared, plus other details. 
If your child is interested in becoming an Acolyte, please contact the church 717-272-8251 or email us at info@stlukeslebanon.org