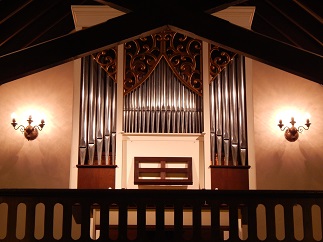 Located in the gallery of our Auditorium, our small 'chamber' organ is drastically different from the organ in our Nave, and provides us with quite a contrast in musical style.  Built in 1990 by the famous Moller Organ Company in Hagerstown MD, this instrument has the distinction of being the last Tracker organ that they built (Tracker refers to the mechanical action of the keys and stops on the organ, rather than electro-pneumatic style action).  This Opus 11760 model is built along historic lines and resembles a Baroque period instrument in its sounds as well as its design.  Most notable to our organists, this organ features a completely flat pedal board (as opposed to the concave design on most organs).  
The Great Division of the Moller Organ houses an 8′ Gedackt, a 4′ Principal (Facade), a 2′ Waldflote, and a progressive Mixtur of 1′ and 1 1/3′ Cymbal.  The second manual we refer to as the Solo Division which features a beautiful 8′ Krummhorn and another 8′ Gedackt.  The Pedal division includes only a 16′ Subbass with the possibility of coupling both the Great and Solo Divisions if desired.  There are plans to install a Zimbelstern in the future.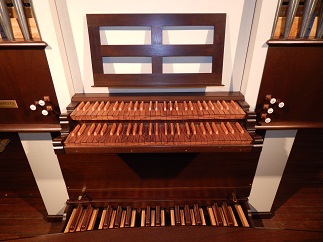 Although the design of this instrument lends itself to Early Music, it has become evident that it also leads congregational singing quite well.